Need an effective solution when a set of stairs keeps you from enjoying your whole home?
The Handicare FreeCurve curved stairlift can handle any twist, turn, winder or wedge steps you have in your home. With a continuous curve, single rail, built specifically for your stairs, you can be assured of a smooth, safe ride. Using the PhotoSurvey system, we take precise measurements of your stairs and show you a preview of how it will look in your home.
If you have straight stairs and only a landing or two, the best option may be the Handicare 1100 straight stair lift. 
Either solution comes with several seating choices and additional features to make your life easier.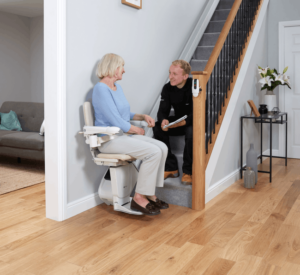 The Handicare 1100 is an excellent choice for a straight stair lift. It has several features for built in safety and runs very quietly. Here are some of the features: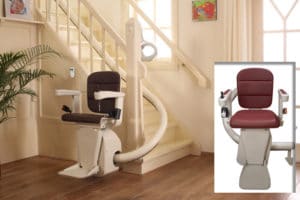 A single rail curved stair lift custom configured for your home The handicare FreeCurve stair lift is a single rail system with no teeth, gears or pins. We custom build each rail using the PhotoSurvey system to ensure a perfect fit, no matter how many turns or...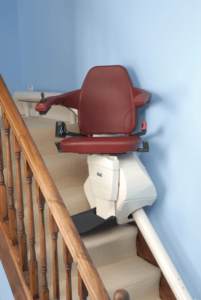 The classic seat option is a comfortable ergonomic design on the Handicare FreeCurve stair lift for seniors.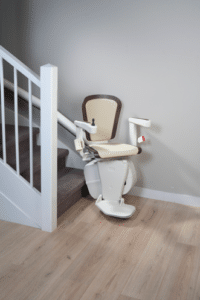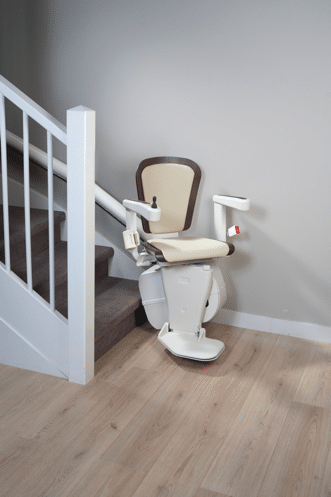 The Alliance Seat for the Handicare FreeCurve has several added options besides colour choices: Turn & Go, Child Seat, and Body Harness are just a few.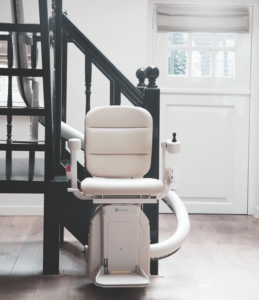 The Elegance Seat option for the Handicare FreeCurve curved stair lift is extremely comfortable and includes many options to customize your stair lift.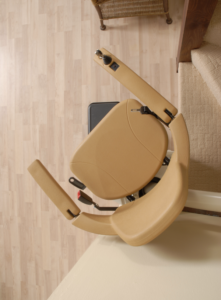 The Turn and Go seat for the Handicare FreeCurve stair lift makes it easy to swivel in the perfect direction at the end of the lift.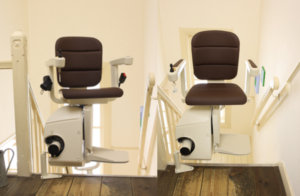 The powered swivel seat option for the Handicare FreeCurve stair lift lets you turn the chair in the best direction with the push of the toggle control.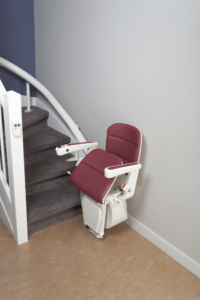 The FreeCurve Active Seat option helps users to easily get out of the stair lift chair by slowly and gently lifting and raising, helping you into a standing position at the end of the rail.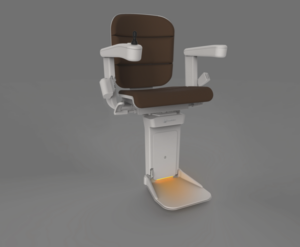 The Powered Illuminated Footrest option for the Handicare FreeCurve stair lift provides a light when folded down. This makes it easier to see in the dark.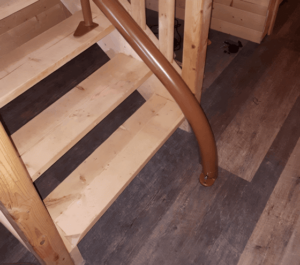 The drop nose rail option for the Handicare FreeCurve stair lift keeps the track from creating a hazard at the bottom of the stairs.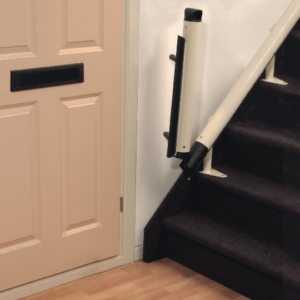 We can install a power hinge for curved stair lifts.  This means the track for the stair lift can be folded away from the door at the bottom of the stairs, providing clear access.
[et_pb_fh_post_carousel selected_post_type="stairlift-product" posts_number="15″ item_margin="10″ mouse_drag="off" dots_each="on" lazy_load="on" _builder_version="4.20.0″ _module_preset="default" hover_enabled="0″ global_colors_info="{}" orderby="date_asc" carousel_items="6″ sticky_enabled="0″ include_taxonomy_stairlift-product="layout_tag" include_cat_layout_tag="1059,1069″ show_meta="off" custom_button="on" button_bg_color="#F7941E" button_bg_enable_color="on" button_border_color="#F7941E" button_use_icon="off" button_border_radius="35px" loop="off" arrows_custom_color="#0B9444″ dot_nav_custom_color="#0B9444″ border_radii="on|4px|4px|4px|4px" border_width_all="0px" custom_padding="|5px||5px|false|true" border_width_top="1px" autoplay="off" module_class="et-custom-read-more-text" button_text_size="16px" button_font="|600|||||||" custom_css_slide_button="button {|| || color: #ffffff;|| background: #0b9444;|| border: #f87217;|| font-size: 56px;|| border-style: solid;|| border-width: 4px;|| margin: 10px;||}"][/et_pb_fh_post_carousel]