Why choose a power hinge for your curved stair lift?
In some situations, in order to have the seat of the Handicare FreeCurve Stair Lift go low enough for the user, it's necessary for the track to extend beyond the staircase, all the way to the lower floor level. In that situation, there may be a doorway close to the bottom of the stairs and the track may get in the way which causes a tripping hazard.
In these cases, we can install a power hinged track for the curved stair lift.  This means the track can be folded away from the door, providing clear access.
The hinged track option extends when you go down stairs, then folds up when you go upstairs or want to park the curved stairlift out of the way. This makes sure there's clear access on the lower level.
*The power hinge for curved stair lifts option cannot be combined with the Active Seat option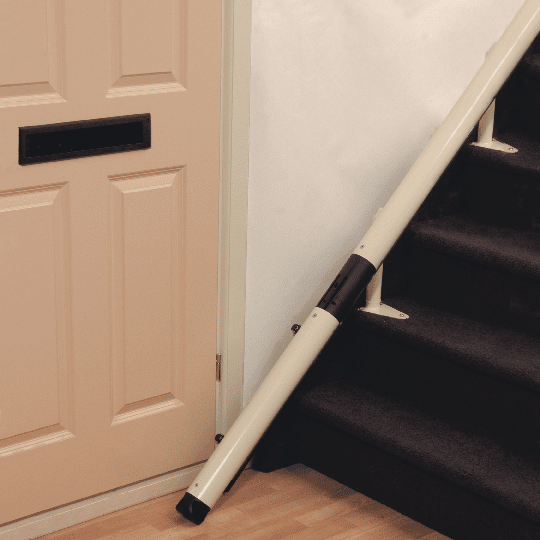 Power Hinge Rail in Down Position
We can see the hinged rail in the fully down position, temporarily creating an obstacle, but ready to allow the user to be able to get out of the seat at the most comfortable stop.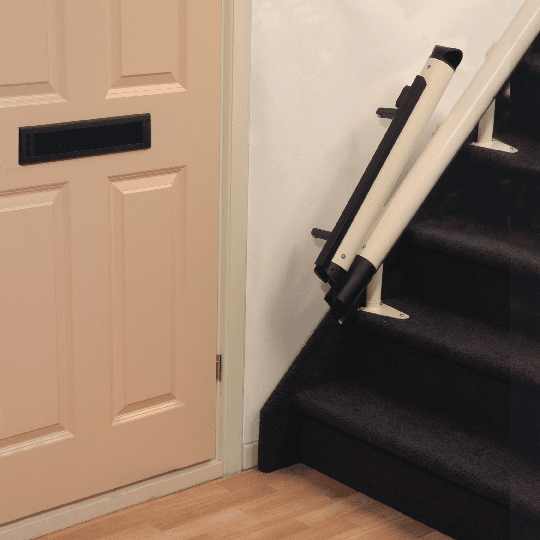 Power Hinged Rail Folded Up
Once the user has gotten out of the seat, the stair lift chair can be moved up and stored away from the door. Then the hinge will fold up automatically witht he press of a button and be our of the way, removing the tripping hazard.