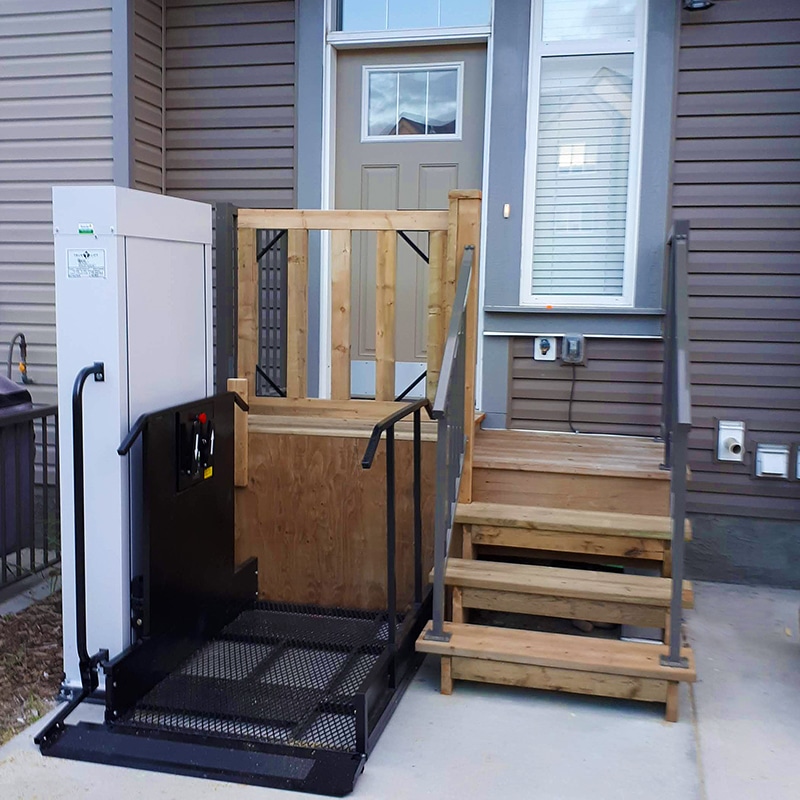 Vertical Platform Lifts – Porch Lifts
Vertical platform lifts, commonly called porch lifts, are most often used as outdoor wheelchair lifts or scooter lifts for porches or decks though they are also occasionally used indoors and in public buildings.
A basic porch lift consists of a single, open platform, and drive mechanism that controls the up-and-down movement of the lift. More complex porch lifts can lift up to 144″, however they're typically installed in a garage, near a front or side door, and are best suited to get in or out of the house. Often an additional deck or porch is required to install your porch lift.
Our porch lifts are engineered to withstand a wide range of weather conditions, from extremely hot, dry temperatures to blistering cold ones.
Advantage Home Health Solutions' porch lifts are reliable and economical choices to achieve maximum accessibility in your life. When a wheelchair ramp isn't a practical choice, a porch lift might just fill the void.
This is but one of the options for getting a person in a wheelchair to visit the second floor! Contact us and we'll provide you with the information you need to make an informed decision.
Incline Platform Lifts: 

Residential Wheelchair Stair Lift Systems
Inclined platform lifts (IPL) are a scooter lift or wheelchair lift for home or business stairs. The platform, large enough to accommodate most users, folds up and out of the way when not in use. Many inclined platform lift models allow a regular fold-down seat to be installed on the platform allowing safe usage by those needing staircase assistance. Many wheelchair stair lift systems allow a regular fold-down seat to be installed on the platform allowing safe usage by those needing staircase assistance.
Wheelchair Stair Lift Considerations
Key considerations for an incline stairlift is there needs to be enough space at the base of the staircase to accommodate the 36" platform length and wide enough for the platform.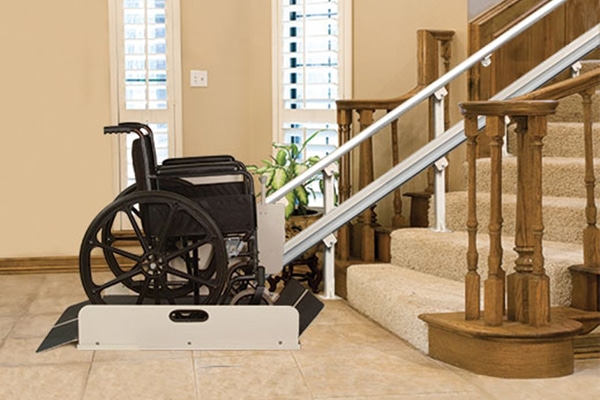 Harmar IL500 Sierra Wheelchair Stair Lift
The Harmar IL500 is ideal for residential use. It has a weight capacity of 500 lbs, only takes 13" of space when folded up and can accommodate most wheelchairs up to 36″ in length. There is also an integrated seat option for use as a stairlift for non-wheelchair users. Like all other residential stairlifts, the Harmar IL500 is mounted to the treads of the staircase. Other manufacturers attach to the wall which requires special structural modifications..
Find Out More About Wheelchair Lifts…
Ask us for a free, no obligation in-home assessment. Just fill out our contact form and get a FREE consultation today.