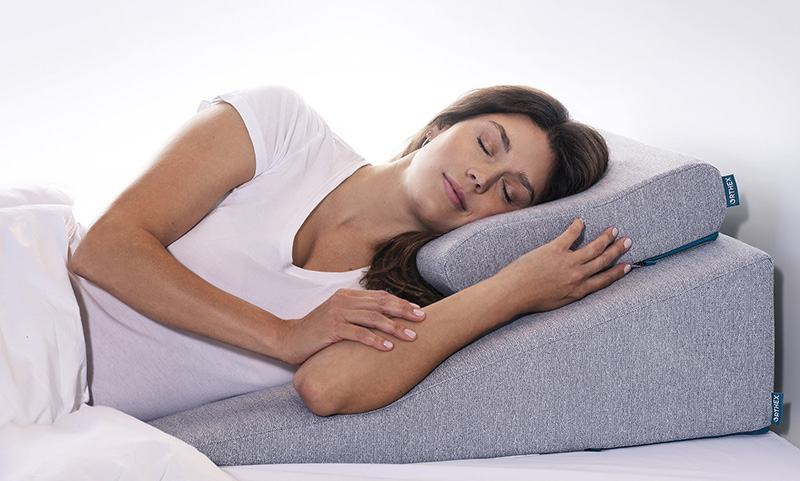 Orthex is a Canadian company, specializing in effective sleep posture products to help you relax, sleep soundly and improve your health. They have been closely connected to the medical field since 2008, making them a leading manufacturer of orthopedic memory foam cushions in Canada. The Orthex team consists of several health professionals including occupational therapists, osteopaths, physiotherapists, chiropractors, and doctors.
Here are some common conditions and the Orthex solutions for them:
Back Pain
Four out of ten Canadians wake up with back pain and believe their sleep position to be the cause.
The back is the nerve center of the body and when support is inadequate during sleep, it's normal to feel pain. To address back problems, it's necessary to identify the causes, including sleep position, as each position has its own challenges.
Side Sleeping
Sleeping on your side increases misalignment and creates unbalanced pressure on one side of the body. The increased muscle tension generates 70% of back issues.
Recommended by Orthex
The size and density of the Symbia 03" knee cushion allows alignment of the legs and back by eliminating pressure on your knees and ankles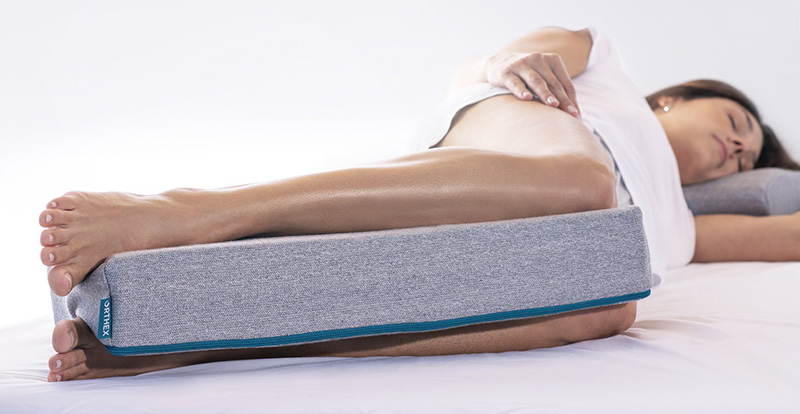 Back Sleeping
The natural symmetry of sleeping on your back means the spine becomes the central axis of the body, and as weight is distributed equally, it results in decreased muscle tension. The natural curve of the spine however, makes it difficult to evenly distribute support, especially in the lower back (lumbar). It is essential to give adequate pressure to each vertebral disc to prevent inflammation and pain, which is difficult to achieve on a mattress alone.
Recommended by Orthex
Symbia 08° cushion raises legs to produce tilting of the pelvis, full stretching and lumbar region support. Thanks to their angles and design, positioning wedge cushions Symbia 16° and Symbia 23° relieve tension on the back by comfortably pressing the spine and muscle structure as one.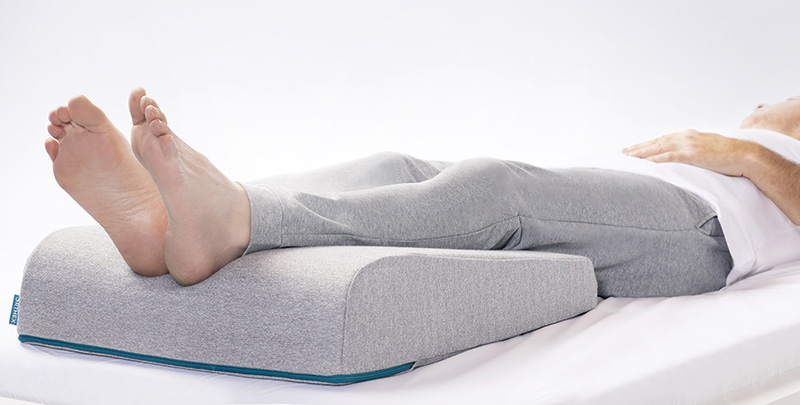 Sore Neck
A Sore neck can be a result of pressures and tensions that are accentuated in a lying position. The inactive state of your muscles during sleep makes joints more vulnerable and less supported, so you suffer from the increased pressure. It's important to properly align your head to maintain an ideal level of pressure at the neck while you sleep.
Side Sleeping
For a side sleeper, neck tensions are very common as pressure is concentrated on the shoulder and head. To avoid misalignments, the head must be correctly aligned with the body.
Recommended by Orthex
To align the head properly, Somnia 4.5" and Somnia 5.5" pillows have a reinforced rear section and more flexible (thicker and longer) central section to adequately embrace the neck. The Somnia 3.5" travel pillow also provides adequate support in a reduced size.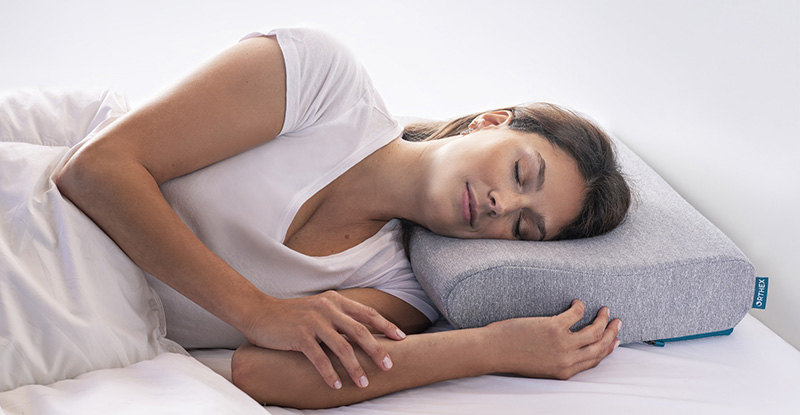 Back Sleeping
Sleeping on your back ensures a better symmetry of spinal support, but the alignment of the neck depends on the weight distribution of your head relative to your body. It's essential that a pillow follows the natural curve of the neck to maximize comfort… rarely the case in most pillows.
Recommended by Orthex
The thinner design of the Somnia 03" back sleeper pillow ensures natural alignment of your head, while the reinforced neck section angles to support the cervical curve and ensure full support. The Somnia 06" and Somnia 3.5" provide the same benefits in a convenient travel sized format.
Shoulder Pain
Side Sleeping
Shoulder pain is a common issue and stress on the shoulder must be limited in order to prevent or reduce pain. This can be difficult to achieve due to the complexity of the joint and because it manages arm movement. During sleep, the concentration of weight on one side of the body is a key source of shoulder pain and results in one-third of side sleepers waking up with a stiff shoulder or arm. Despite the issues, side sleeping remains the most popular sleep position, but whichever way we sleep, the shoulder and arm constantly receive pressure when lying on the side. The position of the arm has a direct impact on the shoulder as a whole, so we must seek to evenly distribute that pressure.
Recommended by Orthex
The front section of the side sleeper pillows Somnia 4.5" and Somnia 5.5" have a cavity to naturally insert your shoulder. Weight is better redistributed and your shoulder, arm and trapezium experience even and gentle support.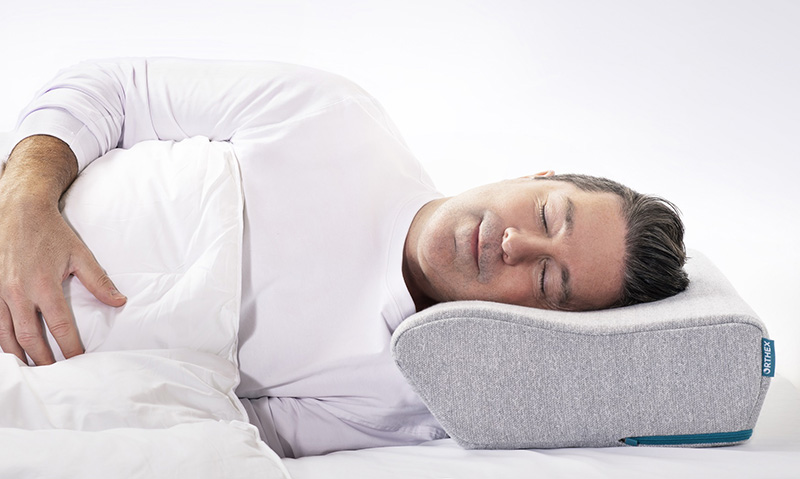 Back Sleeping
Sleeping on the back eliminates any contributing factor to shoulder pain. It applies very little pressure on the shoulders as joints are stressed differently due to the elongated body. Many people who usually sleep on their side adopt the back sleeping position for that reason.
Recommended by Orthex
It is much easier to sleep on the back with a specifically calculated inclination of the upper body. Symbia 16° or Symbia 23° bed wedges promote full back support and eliminate irritants keeping you from being comfortable on your back. The angled front section of the back sleeper pillow Somnia 03" provides complete and natural shoulder and upper back support with a seemless transition between the mattress and pillow.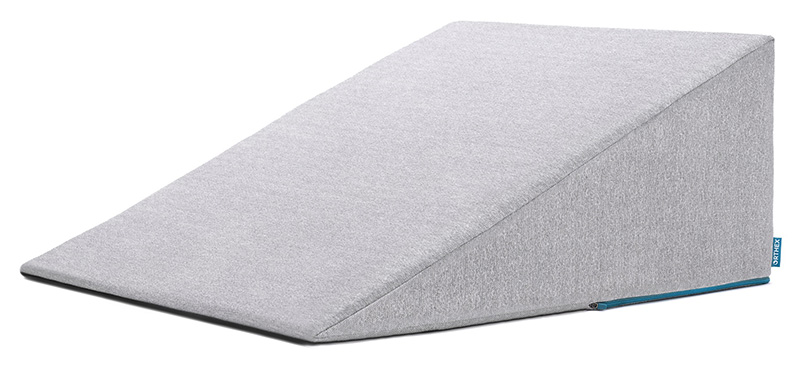 Sciatic
There are two sciatic nerves that originate in the lumbar and travel down each leg to your feet. Pressure or irritation at the base of the nerve causes inflammation resulting in numbness or more intense pain. There are many causes; including excess weight, lack of exercise, lower back injuries and inappropriate footwear, but symmetrical sleeping positions can help prevent or reduce sciatic pain.
Side Sleeping
Sleeping on your side increases the pressure on each of the critical areas where the sciatic nerve travels. Buttocks and thighs are crushed or in an unbalanced position so your calves and feet experience tension even in sleep mode, which increases inflammation of the sciatic nerve.
Recommended by Orthex
Knee cushion Symbia 03" balances the weight suffered by each leg, aligns and straightens the pelvis and lumbar region.
Back Sleeping
Sleeping on your back is beneficial for the sciatic nerve due to the balanced support of the body on the mattress. Aggravation, inflammation and pain are reduced, but there is always pressure on the nerve due to muscle contraction which is still present during sleep.
Recommended by Orthex
The Symbia 08° cushions raises legs in a neutral position, which limits pressure in the lower back and pelvis by generating a smooth mid-body tilt.

Leg Pain
Constant use of legs can result in heavy legs, restless legs, swollen legs, varicose veins, oedema, sprains, muscle stretching, ligament tears, etc. Sensations vary from simple tingling to burning to intense pain. Sleep posture and leg positioning play a large role in prevention or recovery. Heavy and painful legs are often the result of circulation issues. During sleep, tingling sensations, cramps or spasms can be reduced if legs are properly elevated, facilitating the return of blood to the body and heart.
Recommended by Orthex
The Symbia 08° leg wedge raises the legs to the ideal height and angle ensuring an efficient blood flow.
Side Sleeping
When lying on your side, alignment of the lower limbs has a significant impact on comfort. When legs are crooked, joints and muscles suffer additional stress. The ideal position is to align your legs, but friction between knees and ankles makes this an uncomfortable way to sleep.
Recommended by Orthex
The thickness, firmness and size of the Symbia 03" knee and ankle cushion aligns your legs comfortably without being cumbersome.
Relaxation
Relaxing before sleep ensures deeper and better sleep. Daily tension is not only physical, but psychological, due to stress, anxiety and nervousness. The most popular means to relax are reading and watching television in bed and good posture is fundamental for proper relaxation.
Recommended by Orthex
Bed wedge cushions Symbia 16° and Symbia 23° allow you to read and watch TV in a stable and comfortable position while properly supporting your body.
Acid Reflux
Acid reflux, commonly known as heartburn, affects 40% of the population.
Digestive discomforts are commonly amplified during sleep because the horizontal position is not conducive to efficient digestion.  Acid reflux is generated by stomach acid flowing back into the oesophagus due to a defective valve closing off the upper part of the stomach. It can be occasional or chronic, and often occurs after a heavy or spicy meal. It can be prevented by adopting a specific sleep position.
Recommended by Orthex
Thanks to improved angles, Symbia 16° and Symbia 23° wedge cushions are ideally designed to eliminate acid reflux and ensure effective, comfortable digestion during sleep.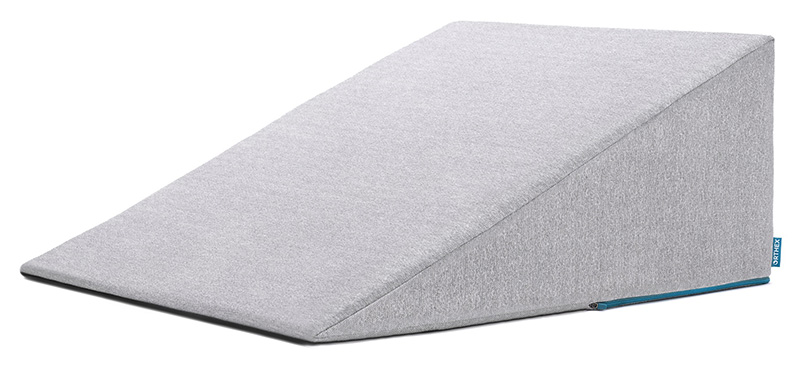 Breathing
Snoring affects more than 60% of the population and is due to the vibration of the throat tissues that relax during sleep. It can progress to sleep apnea, resulting in a complete blockage of the respiratory tract. Chronic obstructive pulmonary diseases (COPD) is also an obstruction of the airways but localized mainly in the lungs. The most known diseases are asthma, chronic cough, bronchitis and emphysema, which affect sleep patterns by destabilizing breathing rhythm.
Breathing supplies oxygen to the blood, which nourishes and regenerates every cell in the body. Health professionals recommend inclining the upper body to facilitate breathing. The result is to naturally clear the path of air entering and leaving the body. Sleeping on your back in an inclined position reduces pressure on the organs and muscles and limits congestion.
Recommended by Orthex
Bed wedge cushions Symbia 18° and Symbia 23° incline the body optimally to ease breathing without compromising comfort.
Find Out More About Support Pillows…

 
Ask us for a free, no obligation in-home assessment. Just fill out our information request and get a FREE consultation today.