We stock a wide variety of travel mobility scooters.
Take a look at some of the models we carry, seen below. If you're looking for something to get you around the shopping mall, up the street for a quick trip to the grocery store or even something to help you manage the great outdoors with hills, we've got suitable 4-wheel mobility scooters for the job. When you're travelling on a cruise ship or airplane, you'll need specific batteries (lithium-ion) and you'll want something that can be folded or dismantled in such a way that it's easy to deal with while you're on your trip. We've got a superb selection of travel mobility scooters to meet your vacation needs.
We have 4 wheel scooters and electric mobility scooter models available in a variety of sizes to suit your needs. Some models are great travel scooters that disassemble or fold for storage and travel, mid-sized multi-use scooters, and large, more robust scooters that can effectively handle more challenging terrain. Contact us and let us assist you in choosing the right medical scooter to match your lifestyle needs.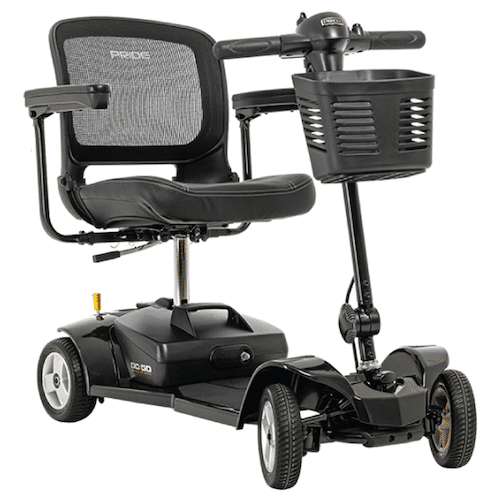 300 lbs. weight capacity
• (3W) Up to 4.3 mph maximum speed; (4) up to 4.1 mph maximum speed
• (3W) up to 8 miles per charge at 200 lbs., (4W) up to 8.9 miles per charge at 200 lbs.
• New! Mesh back, 17"x17" compact foldable seat
read more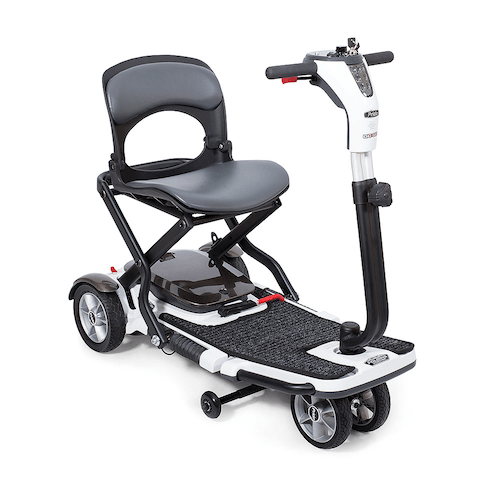 250 lbs. weight capacity
• Up to 4 mph maximum speed
• 32″ turning radius
• Optional armrests available for a more comfortable ride
read more
We Provide Mobility Scooter Repairs and Scooter Batteries Too!
We have qualified technicians that can adjust and maintain your electric mobility scooter, including your scooter battery, to ensure that it gives you years of trouble-free performance.
Have a look at the Jazzy Zero Turn Scooter and its portability!
Find Out More About Electric Mobility Scooters…

 
Ask us for a free, no obligation in-home assessment. Just fill out our information request and get a FREE consultation today.