Handicare 1100 for Everyday Use
The Handicare 1100 Straight Stairlift has an ultra-streamlined design that takes up less space and making it a perfect stairlift for all staircase configurations, including narrow stairs. The Patented Multi-Drive System ensures your stair lift is performing at peak levels at all times. 
The 1100 Stair Lift features a Friction Drive System. No gear rack results in a quieter, smoother, more robust stair lift that's easier to maintain. The 1100's stylish design blends into any environment, and becomes a complement in your home.
Stair Lift Features
Weight limit: 309 lbs
Slim profile of 12.6″ when folded
Continuous charging function
Fold-up seat, footrest, and armrests save space for other stair users
Safety sensors immediately stop the lift if anything is detected in its path
EasyGlide technology ensures a smooth ride up and down the stairs with a gentle gliding stop
Adjustable footrest ensures a perfect fit for each user
Manual or powered 80° swivel seat for safer transfer onto and off the lift
Upgradeable options to powered swivel and footrest
Four brush heads constantly sweep away dust and hair from the rail
Key switch prevents unauthorized use
Vanilla beige leatherette finished seat for easy cleaning
Footrest features textured grips for greater traction
Manual emergency stop
Patented multi-drive provides constant power
Two remote controls included
DC plug-in power
Battery backup in the event of a power outage

 
Zero Intrusion Configuration
Do you have a door at the top of the stairs that you want to keep closed? Or a possible tripping hazard at the top of the stairs? The Handicare 950 Stair Lift can be installed with a Zero Intrusion configuration.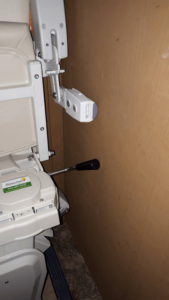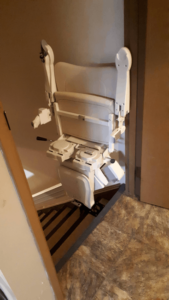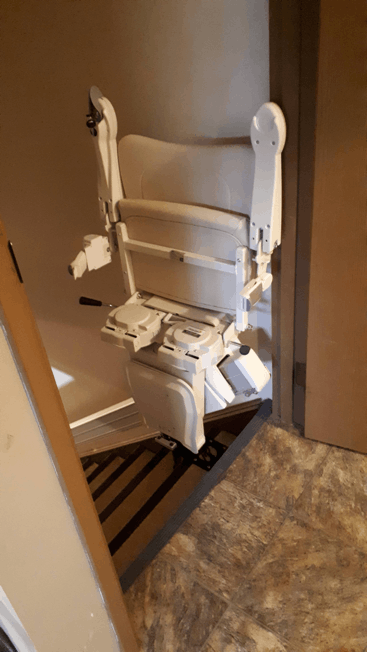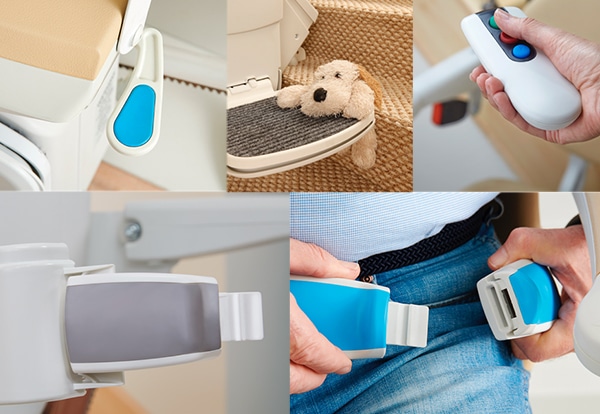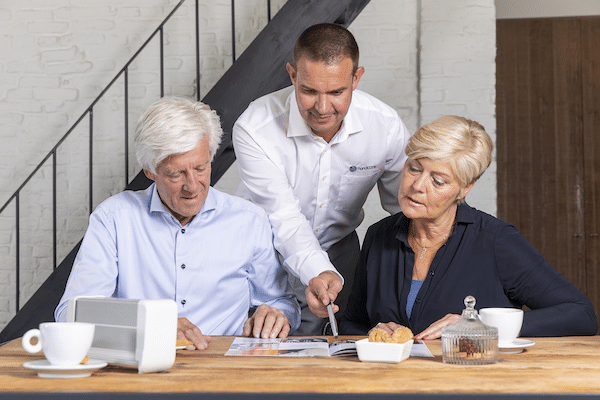 Handicare 1100 Straight Stair Lift Features
The Handicare 1100 is our "workhorse" stair lift. It is very functional and easy to use. Our customers love them because they're easy to operate, easy for us to install, and require very little maintenance. And if we are stumped with a technical issue, we can rely on the excellent technical support from Handicare – days, nights, or weekends.
Easy Toggle Switch
The nice sized toggle switch can be pushed with a finger, palm, or wrist – whichever is easiest.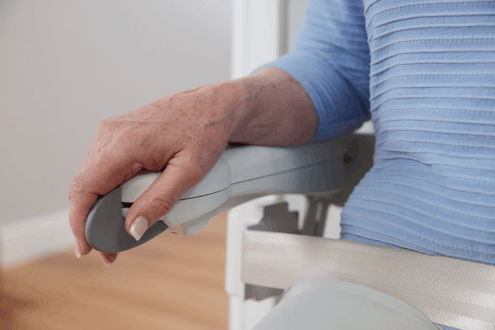 Safety Sensors
Is something on the steps?… under the stair lift?… on the travel rail?… or is the seat not in the travel position? The Handicare 950 Stair Lift has many safety features that cause it to stop if there is a potential problem.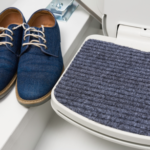 Folds to Compact Size
The stair lift folds up to a compact size so others can use the stairs. It can also be sent to the top or bottom of the stairs with either of the two handheld remotes.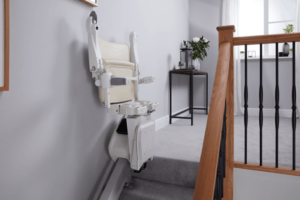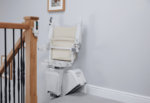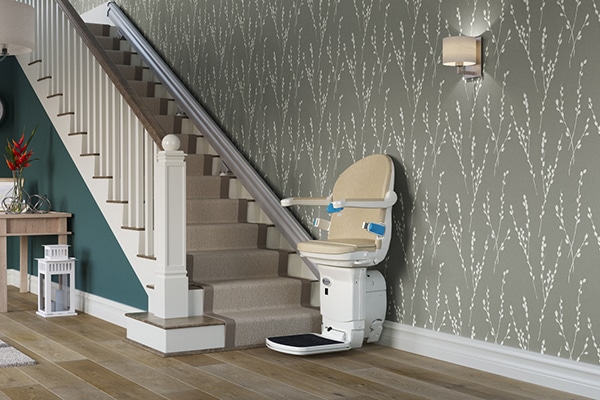 Heavy-Duty Capacity Stairlifts
Advantage Home Health Solutions has two popular options for an extra heavy duty stair lift. 
Handicare 1000 XXL Heavy Duty Stair Lift
The Handicare 1000 XXL has a lifting capacity of 440lbs (200kg) and comes fully equipped with a power seat swivel to assist in dismounting at the top of the staircase. The "smart seat" has an extra long depth of 16 ¾" and inside with from 21 ½" to 25". It has six seat colours to choose from so it will match your home's decor.
What's the minimum width for a stair lift?
There are no specific width requirements to install a stairlift. All stairs in Canada are built to specific codes and standard widths, which we know will permit the installation of a stairlift. There are no renovations required; we install the stairlift in the staircase you have to meet your specific requirements. You do not have to remove handrails for a stairlift installation if it is important to keep the handrail.  However if the handrail could be moved to the opposite side of the staircase, the stairlift could be installed closer to the wall.
What's the average cost of a stair lift?
Many factors can influence the price of a stairlift such as number of stairs, curves, stopping points, nearby availability of power sources. We will always determine the most suitable, safe and cost effective solution for your specific needs.
Some of the price ranges for stairlifts can be found on our website. You may also qualify for funding. 
Do you carry anything similar to acorn chair lifts for stairs?
We represent the most advanced products in the marketplace with excellent warranties.
For example, our straight stairlifts use a friction drive – very unique! Our customers have found it worthwhile to ask us why.
For curved stairlfits, what's important is our PhotoSurvey system to determine the exact measurements of your staircase. With this system, your stairlift will be a perfect fit and provides a safe, smooth and comfortable ride to where you want to go.
Have a look at both straight and curved stairlifts for various types of settings.  We are sure to have a model of stairlift suitable for your needs, safety and budgetary requirements.
Is it possible to install a stair lift myself?
If you have a construction, technical or engineering type background, it's possible. But there are a number of factors you should consider. 
On the YES side:
If it's a straight stairlift, it's possible:
If there's a supplier (manufacturer or dealer) willing to support you with installation questions

If you have technical knowledge, good measurements and understanding of mathematical information to make the necessary calculations to get the right parts. What that means…. the rail length needs to be exactly right!
On the NO side:
It can be complex or confusing

You need the correct tools for cutting and joining the rails

Most stairlfit manufacturers do not provide warranty for self installed stair lifts

If the stairlfit has a breakdown, it could be difficult to find technical support

If it involves a stairlift with turns or curves, it will be challenging to provide the exact measurements to ensure a perfectly smooth and safe ride  – if the manufacturer will even accept your order!
We are sure to have a model of stairlift suitable for your needs, safety and budgetary requirements.
My stair lift is beeping. What could be wrong?
Here are some possibilities that could explain why your stair lift is beeping:
Power off, receptacle issues, tripped breaker, charger issues, dislodged from the charge strip, connection issue between charger and rail, not in locked position and therefore can't use remote, seat not in lock position, obstruction, armrests not in down position, some safety issue that needs tending.
If your stair lift needs service, we're happy to help. Just give us a call and we'll do our best to help. If it's not urgent, you can request more information or a service call here.
My stair lift will not move. What could be the problem?
There are several possibilities for a stairlift to not work:
key is missing or in  the incorrect (off) position

armrests in the up position (they need to be in the down position when using the toggle on the armrest)

there's an obstacle such as a cane or shoe in the way

if it hasn't been plugged in, it will need to be charged – but the batteries might also need to be replaced if they're completely drained (dead)

batteries are drained from age or other reasons such as recent power outage.
If these ideas didn't solve the issue, you may need a service call. Reach out by phone and call 403-460-5438 or request more information about stair lift service here.
How is a stairlift installed?
Stairlifts are attached to the stair treads – not the wall!
When installing a stair lift, we get as close to the wall or railing as possible. We take measurements specific to your stairs or we use our PhotoSurvey system for curved stairlifts.  Our curved rail system is manufactured specifically for your staircase.
A stairlift can typically be installed in a half day. We'll always ensure the stair lift installation meets your needs for safety of the user as well as others in the home.
Slide Track
Under special situations where there are tripping hazards at the top and the bottom, we recommend the sliding track.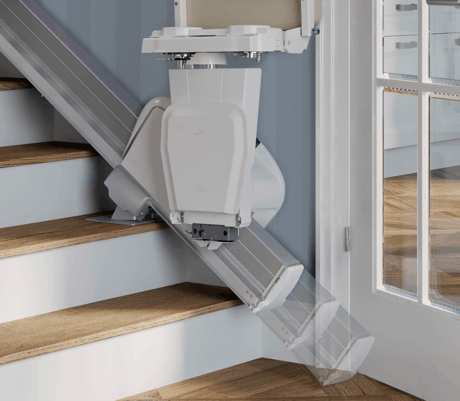 Flip Up Rail
If it's not possible to solve a tripping hazard with a zero intrusion or slide track, a flip up rail could be a solution.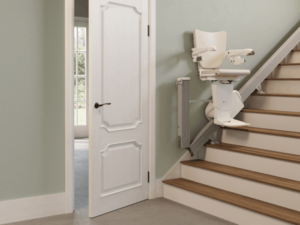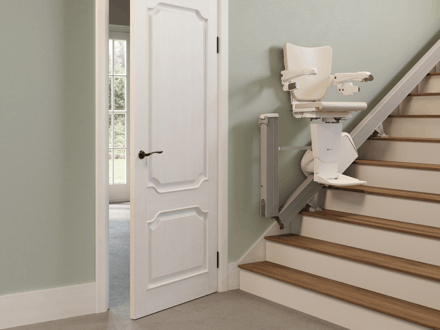 Straight Stair Lift Products and Accessories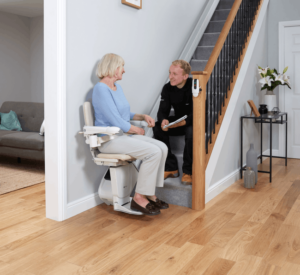 The Handicare 1100 is an excellent choice for a straight stair lift. It has several features for built in safety and runs very quietly. Here are some of the features: