The Government of Canada discusses a number of falls risks that can happen to seniors in their Safe Living Guide. Often, these risks can inhibit the ability of seniors to age in place in the homes they're comfortable in, homes they've known for sometimes decades. In order to make aging in place safer for those loved ones, a stairlift can be a potential solution to ensure they are able to safely stay in the home they love.
Here are the 7 most helpful things you need to know when you're considering a stair lift for your home.
What's involved when considering a stair lift? 
If you're considering a stairlift for your home, when we visit you, we'll always ask about your needs. It's important for us to understand, other than getting up stairs, what your objectives are. When we meet, we discuss three main things with you:
safety,

positioning (ease of use)

and power.
After that, we'll discuss the options and solutions with you and help you make an informed decision that suits your needs, lifestyle and budget.
Safety considerations for a stairlift installation
At the base and top of the staircase, whether installing a straight or a curved stairlift, the rail normally protrudes onto the floor and upper landing (with some exceptions – more on this later). We also need to note whether there is a doorway at either the top or bottom of the staircase. These could be tripping hazards which need to be addressed.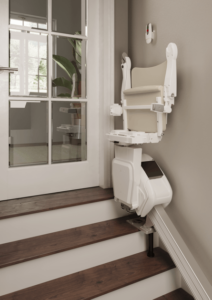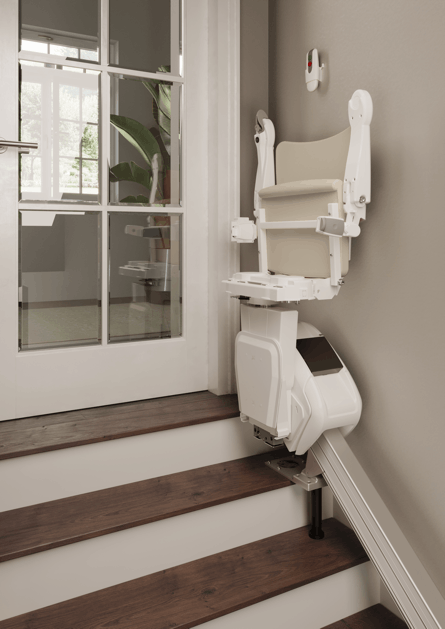 There are always solutions for these types of issues or hazards; we come up with solutions to prevent or avoid them altogether. For instance, if installing a stairlift would create a tripping hazard at the top of the stairs, we might suggest the Zero Intrusion kit for a straight stairlift. This kit includes a special set of supports for the rail which allow us to install that rail further back, as much as 3 ½ inches backward from the kick plate of the step, therefore moving the entire rail back and out of the way of the door. This eliminates the tripping hazard. The Zero Intrusion kit also allows us to move the power pack and seat forward on the rail of the stair lift – a bit complicated to explain – but easy to understand when you see examples on our website. In some situations, the least expensive and best way to avoid a tripping hazard is to place a planter or chair in front of the protruding rail – simple, no cost and looks nice too!
With curved stair lifts, we can configure the rail with a 'drop nose' at the lower entry point. This reduces the protrusion and eliminates or minimizes the hazard. In addition, there are many more advantages to the drop nose including a saving of space. Instead of making a 90° or 180 degree turn, which take extra space, the drop nose configuration is a significantly less expensive alternative than a 90° or 180 degree turn; and because it takes less space, it looks better too! 
We have configured some curved rail stairlift systems with additional charge locations; this is another way to keep the walking traffic area clear for other family members. Once the safety of the user is addressed, then the safety of others in the home becomes the next key concern! This means we will ensure that the stairlift, straight or curved, is installed on the appropriate side to account for safety of other family members who are walking, takes the least amount of space, while considering costs too. Straight stairlifts are installed on the "outside" of the staircase, whereas a curved stairlift could be configured for either side and can be easily installed on the inside where there are wedge steps that are steep (often a total vertical rise of 30") and away from where family members will normally walk.  
Do I need to renovate or modify my home to install a stairlift? What do we mean by 'positioning'?
People often feel their stairs are too narrow and worry they may have to renovate or at least remove the railings on the staircase in order to accommodate a stairlift. Actually, a stairlift can fit almost any staircase. This is because there are construction standards which dictate the minimum width of all staircases.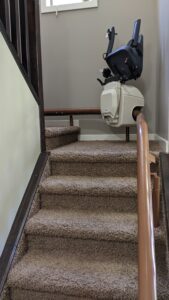 Frankly, the width of the staircase is not the heart of the issue at all; what is the real issue is 'winders' or wedge steps. Staircases with wedge steps can't be modified or renovated, so if the user can't transfer easily or if there are multiple turns, then there is likely not another solution other than a more expensive curved stairlift. 
You may be concerned about where the stairlift is stored when it's not in use. If you frequently have friends or family over to visit, storing the stairlift seat at the bottom of the stairs where your main entryway is might be concerning. This is one type of consideration we mean when referring to 'positioning'.
Straight stair lifts are quite narrow when the seat, arm rests, and footrest are folded up (the Handicare 1100 is the narrowest on the market.) Handicare, Bruno, and Savaria (but not Acorn) stairlifts charge anywhere along the length of the rail so they can be sent anywhere out of the way – and stored in an alternate location – by using either one of the two included remote hand controls (one up, one down) to send or call the stairlift.
Deciding where to position or charge a curved stairlift, other than the top or bottom of the rail, needs some thought.  However, given there are so many ways to configure a curved rail system the possibilities are almost endless; Zero Intrusion, 'overruns', 90°, 180 degree or other angle turns, intermediate stop and charge locations, multiple levels. Ultimately, the positioning of a curved stair lift will be decided almost solely on what makes it easiest to use. We will help you assess the best entry and exiting positions so you can decide which features to choose to maximize your ease of use.
To address positioning concerns in out of the ordinary spaces, on a few occasions, we have even extended a staircase into an open area of the house (depending on ceiling height) by building onto the existing staircase. In the garage we have rebuilt a staircase to best accommodate a straight stairlift – this can save thousands of dollars rather than installing a vertical platform lift (wheelchair lift) and saves space too when a wheelchair lift is not required.
Power options
All stairlifts have a carriage (powerpack) with batteries.  Stairlifts run on DC power (i.e. batteries) and can run many times before exhausting the batteries (15-20 times).  If for some reason there is a power failure, the stairlift can be turned off except to use it to get up or down at a moment's notice.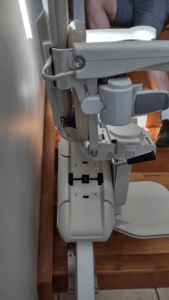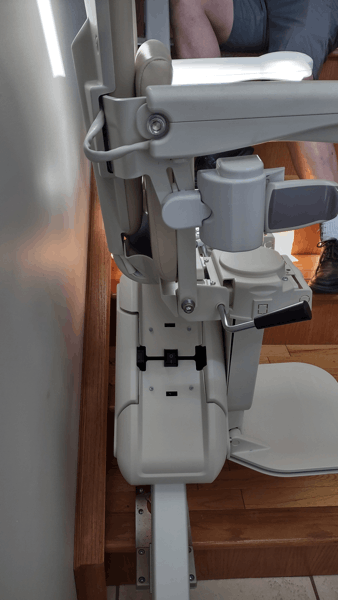 Stairlifts are always in a "ready state" and require a small amount of power from the charger to keep the batteries at full charge.  Therefore, a charger must always be charging the batteries.  The amount of power the charger takes is less than a light bulb (at peak, 1.5AH). There is no requirement for a dedicated circuit.
When we visit your home, we look for an outlet for the charger to power the stairlift batteries. Our evaluation of power options are more centered around where the power is located. Is it at the top or the bottom of the stairs? It's not important where the location of power is, but we do like to keep it neat and fairly close to either the top or the bottom of the rail.  If there is a receptacle around a corner, oftentimes we can hide the cable leading from the charger to the rail by tucking it under the baseboard.  
Under no circumstances do we recommend crossing the floor to get to an outlet. If there isn't an outlet then we call in the "magic" electricians who can always get an outlet to where it needs to be!
If there is not an electrical outlet nearby, then we contract an electrician to install an outlet.  If a new outlet is required for two stairlifts for example on either side of a middle landing, then it might be possible to install only one new receptacle on the landing and used by both stairlifts.
The process to install stair lifts
By this time we will have explored the various safety, ease of use, power considerations, and most importantly, your prime objectives. We previously recorded the measurements of  your staircase(s) or, in the case of the FreeCurve continuous curved stairlifts, we have completed a PhotoSurvey.
The PhotoSurvey is used to illustrate how the curved stairlift will be installed and, most importantly, the rail system was manufactured to the exact specifications of your staircase and desired configuration. This is captured and converted to a 3D model by the PhotoSurvey system at your home.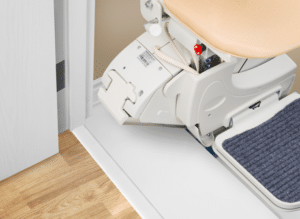 We carry straight stairlifts in stock (including various helpful options such as Zero Intrusion kits, powered footrests, powered swivel seats, slide tracks) and are ready to get you to your next level safely and independently.  
It doesn't take long to complete the prep work at our location, so a day or two is often all we need (in emergency situations we have installed straight stairlifts the same day.) Otherwise, we will arrange a date and time with you for the stairlift installation. We ensure we have all the parts in stock and perform preparation such as cutting rails or, in the case of a curved stairlift, have the manufacturer make the continuous rail systems to the exact specifications of your stairs.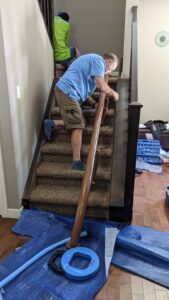 Finally, we'll arrive at your home with our experienced team of installers and take care to protect your home while we perform the installation. The stairlift installation takes a half day or less to complete. If, in the future, you would like to move and reinstall a straight stairlift, we can help you with that too.
How much do the best stair lifts for seniors cost?
We know there are many models and options on the market. We also know that finances can be a major deciding factor in an important investment such as a stairlift. Our main goal is to find the accessibility solution that suits your needs, and your budget, so we offer a large variety of solutions. All our stair lift models, including recycled, come with some type of warranty. Please ask us for details.
Many factors can influence the price of a stairlift such as the number of stairs. We discuss and consider if there are "winder" or wedge steps, if there are simple or compound curves, is there an additional stop and charge point required, (for example, a bonus room over the garage  ½ way up from one floor to the next,) or issues with nearby power sources being unavailable.
If you're wondering how much does a stair lift cost, it's best to contact us for the most up to date pricing, which also takes into consideration any specialized requirements for your circumstance. But, as a general guideline, you can expect prices to fall into these ranges:
Recycled stairlift: We only buy stairlifts for resale if they are in excellent running condition and a current model. They also must be from a manufacturer that provides technical support (not all do!) If they pass 'muster' then we will remove gently used stairlifts and inspect clean and them to make sure they are in top running condition. Many times our clients comment that they can't even tell they are recycled. Depending on the model, recycled stairlifts can usually be purchased for around $2000.00 including installation. 
---
The only recycled options for stairlifts are for straight models. This is because every curved stairlift is manufactured specifically for one individual staircase and therefore would not fit into another home. We could reinstall a stairlift from one client to another with a new curved rail system. The seat, footrest and powerpack from a curved stairlift model could be recycled and programmed for a new rail in that situation, thus saving some cost. We don't always have recycled models in stock, but when we do, we'll always present this as an option for your consideration.
---
Straight stairlift cost: these models, when new, start around $3300.00 and up, depending on any additional features that may be selected such as a power swivel seat or a Zero Intrusion upgrade. Generally, we have these models in stock most of the time and are able to provide installation services within short time periods.

Straight stairlifts for heavy duty and exterior installations are about $5,000, and vary with weight capacity and possibly other factors.

Curved stairlift: these models can cost from $11000.00 up to $19000.00, again, depending on the complexity of your situation and which features are required. When you decide to purchase a curved stairlift, we'll come to your home and perform a Photo Survey of your stairs. This allows us to get exactly precise measurements of your stairs and the curves, landings and wall distances. Then, a computer program is run using those exact measurements, which allows the manufacturer to create the required number of rails with specific compound curves for your stairs. Our technicians will install and join them right on your site which will ensure a perfect, smooth ride up and down your stairs. Those measurements from the PhotoSurvey system also allow a computer program to operate your stairlift safely, telling it exactly where to start and stop, where the charging points are and where the turns are. It's really quite marvellous and unique.
Rental stair lift: It may be that you only require the use of a stairlift for a short period of time. We do offer straight stairlifts for rent. You can reach out to us for pricing and availability.
Stair lift funding
There are limited funding options that might be available to you and we would be pleased to refer you accordingly. Feel free to contact us directly or visit our funding page to view some of those options. We have worked with many clients who were able to take advantage of funding opportunities. And although we are not "agents" for funding, we are more than happy to point the way.
Is there an alternative to a stair lift?
Take a look at our portfolio or check out our table of entryway options for ideas and guidance for alternatives to stairlifts.