The kitchen is a room in the home that presents dangers to everyone, not just seniors or individuals with mobility issues. Of course, if used properly, all appliances and utensils should pose no threat to anyone's safety. This is why children are often taught not to use anything in the kitchen without parent supervision. It is also why many seniors are offered alternatives to traditional kitchenware.
Promoting safety in the kitchen should always be a top priority.
"Kitchens are one of the most dangerous areas of a home for seniors," reports our friends at Comfort Keepers, "There may be physical issues such as diminished balance, vision, and reflexes ─ or a senior may be suffering from Alzheimer's disease or another form of dementia. Many accidents and falls occur in the kitchen due to: cooking fires, water, grease and spills on the floor, reaching for hard-to-reach objects, appliance injuries, even inappropriate objects placed in a microwave."
This is why, at Advantage Home Health Solutions, we are very proud of our line of Parsons ADL Inc. products. We have many of them available for sale at our location. Among these products are a cutting board and a number of pieces from their weighted cutlery set. Parsons ADL is a trusted Canadian source of home health care products with over 30 years of dedicated service to the Canadian public.
Check out the Multi-Purpose Cutting Board!
Cutting fruits, vegetables and other foods sounds like a fairly easy task. But it may not be so easy for those who have issues with strength, balance and grip. What makes the Parsons ADL cutting board so special? Pictured above, the cutting board has an easy to clean white food grade polypropylene design. It comes with stainless steel spikes to hold food in place for peeling and slicing.
Naturally, this helps to prevent food from slipping, making cutting and slicing easier and safer. The board also features 1/2″ (1.2cm) high corner guards to keep bread from sliding when spreading butter or slicing. In addition, the cutting board is mounted on four suction cups. This anchors it securely to any countertop in order to prevent it from slipping or falling.
Check out the weighted cutlery pieces!
We carry Parsons ADL forks, spoons and knives. But, as you may have guessed, these are no ordinary kitchen utensils. With weighted handles (225 grams or 8oz), each utensil helps to reduce hand tremors. The entire Parsons cutlery line offers complete attention to both style and comfort.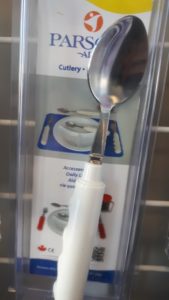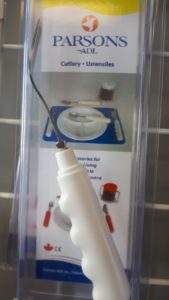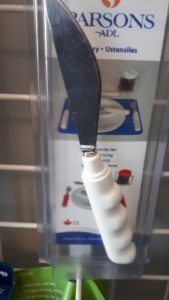 "By relieving stress on joints, these generously proportioned, well balanced utensils discreetly assist those with diminishing strength and movement in hands and arms, allowing a more secure and relaxed grip," explains the Parsons ADL website, "This improved comfort is essential to maintaining self-confidence and independence at the dinner table. Parsons cutlery is dishwasher safe."
For more information about our Parsons ADL line of products as well as the other excellent daily living aids offered by Advantage Home Health Solutions, please don't hesitate to give us a call at 403-460-5438. You may also email us by filling out the form on our Contact page!