As we age, we tend to lose strength, balance and mobility. These facts of life have been communicated in many blogs of past. However, they require repetition simply because so many people take for granted the physical abilities they've had throughout their lives. It is quite possible that at a certain time in your life, you may need a little extra help completing some of your daily routines.
If you live with an elderly loved one, you're likely reminded of this reality on a daily basis. However, when a loss of strength, balance and/or mobility becomes an issue, hope should not be lost. There is help! And, at Advantage Home Health Solutions, we're elated to provide our customers with a wide variety of excellent aids to daily living. We wanted to share some information about a few of them in this week's blog.
Patterson Medical's Homecraft Kitchen Workstation.
Many people love to cook! And a passion for the culinary arts certainly doesn't dissipate as we get older. However, with age often comes a difficulty with safely holding and using such kitchen utensils as knives, forks, spatulas and the like. However, with Patterson Medical's Homecraft Kitchen Workstation, cutting and chopping vegetables and other foods becomes a lot safer and a lot easier.
The Homecraft Kitchen Workstation is a durable chopping board that comes with features that help to increase its user's independence. Among those features are a grater and slicer with a protective cover and a removable clamp that opens up to hold food, a tin or a bowl. As well, the Homecraft Kitchen Workstation comes with a suction pad that keeps it secure, even when placed on a wet countertop.
Roll-A-Lotion.
When bathing and grooming ourselves, it's hard enough to reach every spot of our bodies as it is. This is especially true for our back area. For individuals who may have mobility issues involving their necks, arms and back, the As Seen On TV Roll-A-Lotion is an excellent way to help you get through the day. Thanks to its extra long handle, this awesome product enables you to reach all areas of your back for the purpose of bathing or moisturizing. It's also great for your ankles and feet.
The reservoir can be filled with your choice of body lotion, suntan lotion, bath gel or massage oil and the applicator glides over your skin to release an even layer of the product. Roll-A-Lotion comes with 19 floating balls that work to soothe and massage your muscles. When not in use, this great device can be conveniently stored away with its air-tight cover attached. This keeps your product from drying out.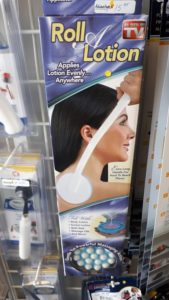 Drive Lifestyle Essentials Polyethylene Flexible Sock Aid.
This is a great product for individuals with back or leg issues and who find it hard to bend over to put on socks. The latex-free Drive Lifestyle Essentials Polyethylene Flexible Sock Aid is a soft plastic stocking aid that can be easily folded or rolled to fit inside a sock. Curved cut-outs on the sides hold the sock while it is being pulled up the leg. A long webbing strap allows the user to pull the strap without bending over.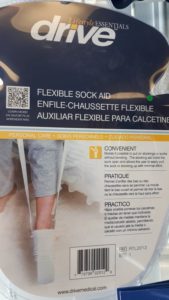 For more information about the excellent aids to daily living offered by Advantage Home Health Solutions, please don't hesitate to give us a call at 403-460-5438. You may also email us by filling out the form on our Contact page!