Improve Bedroom and Bathroom Safety with Home Accessibility Renovations
As we get older, even the simplest of tasks, like using the restroom and bathing, can become problematic for us. For those with mobility issues, accessing the bathroom or the shower can be nerve-wracking. The fear of falling on a slippery surface is very real, and with age, we don't have the strength or mobility to avoid or recover easily from a devastating fall.
Advantage Home Health Solutions understands that safety and peace of mind are of the upmost importance to you and your family. You can rest easy that our products will aid you in your everyday activities. We have a variety of accessibility devices for bedrooms and bathrooms to ensure your safety.
Our extensive list of accessibility devices for an accessible bathroom includes essential items: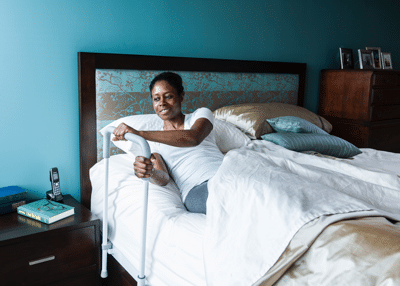 Bathroom Super Poles
Bathroom Grab Bars
Shower Grab Bars
Bath Chairs
Bath Lifts
Transfer Benches
We provide more extensive modifications for those who need barrier free access to their shower. If bathing is a priority, we have slide-in tubs or walk-in tubs to meet specific requirements. Renovations can be quite costly which is why we provide you with the knowledge and information you need to make a choice suited best for you.
Barrier Free Showers / Roll-in Showers
Walk-in Tubs
Slide-in Tubs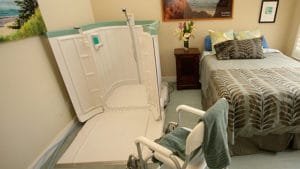 A unique option for clients who don't have access to their full bath on an upper floor or they don't have the option to renovate a bathroom, is a Portable Shower. Without the ability to access to a full bath, the Portable Shower provides a refreshing shower and it takes up only a small amount of space. Clients have the option to purchase or rent as is the case with many of our products.
In the bedroom and bathroom, we offer accessibility features such as:
Super Poles
Grab Bars
Bed Rails / M-Rails
Ceiling Lifts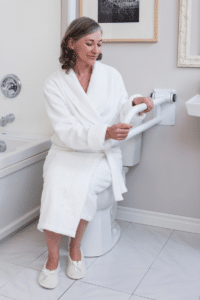 Transform your bedroom and bathroom into your personal space again with our accessibility renovations. Creating an accessible bathroom or bedroom that fits your needs is easy with Advantage Home Health Solutions' knowledge and expertise.
If you'd like to learn more about the accessibility renovations we offer for the bedroom & bathroom, contact us for a consultation.