Enjoy Mobility Anywhere with Scooters, Wheelchairs, Power Wheelchairs and Walking Aids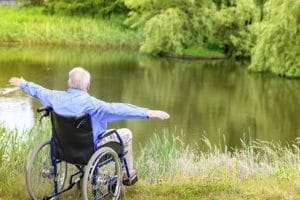 Your mobility issues should not stop you from having a fulfilling life outside of your home. Regardless of whether you use a scooter, a wheelchair or a power wheelchair, you deserve the freedom to safely travel independently or with your loved ones.
Advantage Home Health Solutions has a variety of mobility devices to allow you to travel greater distances without the physical costs that are associated with mobility issues.
Advantage Home Health Solutions not only provides solutions for you to maintain your access and freedom inside your home, we also offer mobility devices that allow you to travel freely outside of your home. For personal mobility issues such as walking difficulties or maintaining balance, we offer various mobility devices appropriate for your activity level and lifestyle.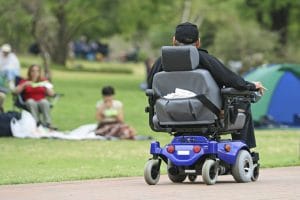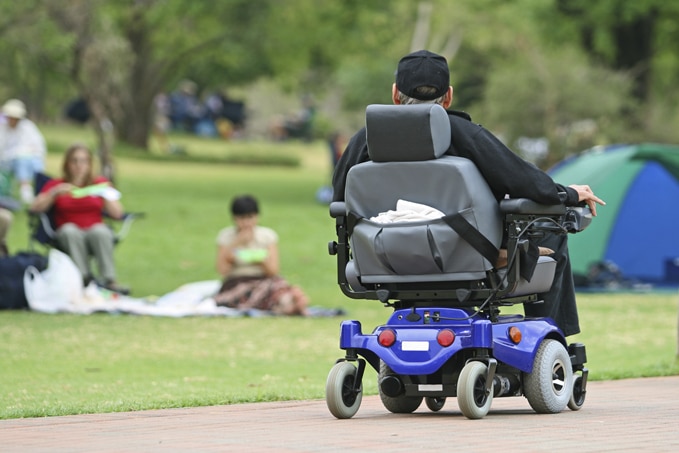 The number one mobility problem for seniors and disabled persons is falling. A fall can result in broken bones or injuries, or worse, a 'fear of falling' mindset, deterring you from participating in daily living activities you enjoy. Advantage gets to the root of the problem, and addresses your unique mobility needs, ensuring you feel secure no matter where you're headed! From wheelchairs, to power scooters, and walkers, we have a solution that will help you get around safely.
Our mobility devices safeguard you from potential injuries, giving you the peace of mind and support wherever your next adventure takes you.
Walkers and Rollators
Walkers and Rollators help you feel safe when walking on your own. While walkers can be used indoor and outdoor, they are not meant to be used for rough terrain. Rollators, also known as four-wheel walkers, include a seat, wheels and brakes. Four-wheel walkers move while the users is walking, while two-wheel walkers do not have brakes or a seat. They are ideal for people who require stability when they lift their feet to walk forward.
Walkers are made for anyone who requires added support and stability when walking. We provide three different types of mobility walkers: basic, two-wheel and 4-wheel.
Basic Walkers: The basic mobility walker has four legs like a chair, along with a pair of handles but no seat. A person using this type of mobility walker must pick up the walker in conjunction with their steps. These walking aids are the recommended option for a person with stability needs, as the solid frame can hold the user's weight when required.
Two-Wheel Walkers: Similar to the basic walker, the two-wheel mobility walker adds wheels to the front legs. The user can put more weight on the two-wheeler, moving with ease, while maintaining the stability support through the rear legs. If you do a lot of walking outside your home, a four-wheel walker is a stronger choice.
Four-Wheel Walkers (Rollators): These offer the most mobility and the best option for walking longer distances.
Power Wheelchairs

Wheelchairs and power wheelchairs are an ideal mobility solution for people with little or no ability to walk. Power wheelchairs can be used for both indoors and outdoors. At Advantage Home Health Solutions, we are knowledgeable of the different types of power wheelchairs, so we can help you determine which type of wheelchair fits your unique needs.
Power wheelchairs are composed of two sections, the base and seat. The base houses the power, batteries, and motor, while the seat is what you'd expect, but with an added joy stick on the armrest that directs movement.
Scooters
Scooters are an ideal mobility solution for people who are ability to walk, but struggle or are unable to walk for long distances. In this case, a scooter is a great option for you! Unlike a power wheelchair, you might have limited accessability to certain areas with a scooter, because of its large size. However, mobility scooters are great for safely traveling longer distances to places like the grocery store or the mall. But, there are many scooter sizes that provide the choices most important to your mobility needs.
When choosing the right scooter for your needs, keep these principles in mind:
The fit. Check to see if the height of the scooter, and the seat, are comfortable for you while maintaining a good grip of the tiller. The ideal sitting position is a straight back, with knees bent at 90 degrees; bad posture can cause stiffness, soreness, or chronic pain.
Where you'll use your mobility scooter most. Advantage offers different types of scooters: portable, three-wheel, and four-wheel, each with their own benefits. A three-wheel scooter is the best option for tight turns. A four-wheel scooter has better stability, and depending on the model, can handle rugged terrain and steeper inclines, making them perfect for outdoor use. Portable mobility scooters should be considered if you do a lot of traveling, and need to pack up your scooter frequently and conveniently.
Ease of operation. The tiller-operated scooters require you to have hands on the handlebar at all times, as well as the dexterity to manoeuver the machine. If you struggle maintaining your grip and pressure on the tiller, ask us about our delta tillers, which can be operated by one hand.
Our array of mobility devices can be overwhelming; let us help you decide whether a two wheel walker, scooter, manual wheelchair, power wheelchair, or four-wheel walker is right for you. We can then advise the specific type of mobility device that's best for you to take full advantage of your newfound mobility! Contact our mobility solution specialists today!

We have been extremely happy with your customer service. After dealing with your staff we appreciate your honest advice and your willingness to accommodate us when at all possible. We look forward to dealing with you in the future.
Hugh B
Client


I experienced service at its best from this awesome team. Their service did not begin and end with the sale. They provide support / knowledge and the right service to meet your specifically tailored needs. They are the go to team!
Catherine
Client


You have always been so great to our clients. I wish you and your team great success. Thanks again for all that you and your team do for our clients.
Kristin
Occupational Therapist



We contacted Silver Cross (now Advantage Home Health Solutions) for information pertaining to Stair Lists. We were contacted the very next morning and an in home visit was scheduled for later that day. Upon the visit and confirmation that we would be able to install a stair lift, we received a quote the next morning and installation was completed 2 days later.
We cannot express enough how courteous and expedient the services were. The service was provided with extensive knowledge, professionalism and friendly mannerisms. We would highly recommend the company to all our family and friends.
Thanks so much for making my dad's life so much easier and fear free of stairs now.
Judy
Client



Silver Cross (now Advantage Home Health Solutions) was one of the providers I considered for the installation of a porch lift. Phil's personal interest, attention to detail, competitive pricing and excellent service was so impressive compared to the others, that it was an easy decision to his company. I had complete confidence in him and he fulfilled the order on time and as promised.
I have continued to use his business for subsequent needs and the service continues to be excellent. It is always a pleasure to do business with Phil and his staff.
Yours truly,
Mary
Client



I dealt with Silver Cross in Ontario about 10 years ago so when I found myself in need of a Stairlift in my home in Calgary, I contacted them based on the great customer experience I had previously. I certainly wasn't disappointed and experienced the same, if not better, service than I had before. I appreciate the independent advice that they are able to provide and I really felt that my best interests and my satisfaction were the primary consideration. Thanks again for the superior customer service.
Sheila
Client



If it were not for Joan and her old fashioned wherewithall, utter kindness, knowledge of the Alberta Health system and billing procedures, and all around super attitude, I'd still be housebound. Thank you are the only two words I have, but believe me, they deserve a whole lot more, truly a wonderful, caring and old fashioned service company. I highly recommend them to anyone.
Laurie
Client



Thank you so much for all your support and assistance towards my mother, Alice. I called her late afternoon yesterday and asked her, if she received any speeding tickets. We followed her when she went for lunch and we had to tell her to slow down.
Believe she is very happy and having fun with the scooter. Halleluiah!!!
Have a good day!
Sharon
Daughter



By the way, Sean is a great guy and is doing a terrific job installing the equipment. He really enjoys his job.
Rob
Son


How can we make your life better?
How can we help you stay independent?

We want to help you understand what options are available so you have the information you need to determine the best solution for you in your home. We welcome your inquiry!
Our Google Reviews
Great place super friendly staff and amazingly helpful.
Byron Hill
Bonnie was extremely helpful today in assisting me with my grandmothers not so functional Evolution Walker and made my first visit at Advantage a very pleasant one. Thanks again for the amazing customer service.
Nereen Milton
Fran and Phil, are Very Helpful with providing correct Products my Wife needed when she hurt her Back. The waffle style Air Mattress that my Wife Sleeps on made a world of difference. She now sleeps the whole Night in comfort, waking up in the morning feeling rested, compared to the weeks of terrible nights with a herniated disc in her lower back. I would Highly recommend them. Thanks again guys. Robb
Robb Leibel
Contact
1687 32 AVE. NE. Calgary
Alberta Canada T2E 7Z5
 Fax: 866-766-5438
Business Hours:
Monday – Friday: 9:00 AM – 5:00 PM
Saturday: 9:00am – 1:00pm
Other times: Arrange by Appointment