More About Your FREE Assist-a-Tray Bonus Item
The Assist-A-Tray is a couch-side handle that makes it easy to stand from your favorite couch or chair. It comes with a convenient multi-use swivel tray so you can eat, surf the web, or simply keep handy items close by …and it blends in with your existing living-room furniture.
Ergonomic Handle: Use the Assist-a-Tray's handle for leverage to get yourself up from your favorite chair or lift chair.
Swivel Tray: The tray swivels 360° and comes with cup and utensil holder. Use the tray to eat in front of the television, craft in your recliner, or read a book on your couch.
Fits Most Chairs & Couches: Assist-A-Tray is adjustable in both height and length so it will easily fit your favorite chair, couch, or lift chair.
The Assist-a-Tray is a $300 value… and we'll bring it with us when we install your new stair lift.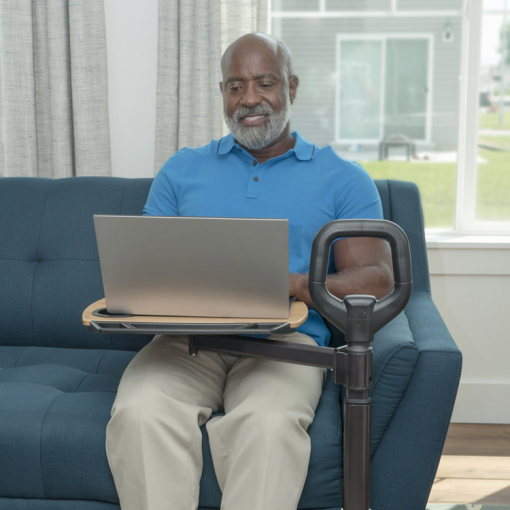 We Can Help You Choose the Best Stairlift to Improve Your Independence! Here are Just Some of the Possibilities!
Handicare 1100 Straight Stair Lift
The Handicare 1100 Straight Stairlift has an ultra-streamlined design that takes up less space and making it a perfect stairlift for all staircase configurations. The Patented Multi-Drive System ensures your stair lift is performing at peak levels at all times.
The 1100 Stair Lift features a Friction Drive System. No gear rack results in a quieter, smoother, more robust stair lift that's easier to maintain. The 1100's stylish design blends into any environment, and becomes a complement in your home.
The Handicare 1100 is our "workhorse" stair lift. It is very functional and easy to use. Our customers love them because they're easy to operate, easy for us to install, and require very little maintenance. And if we are stumped with a technical issue, we can rely on the excellent technical support from Handicare – days, nights, or weekends.
Find out more about Straight Stairlifts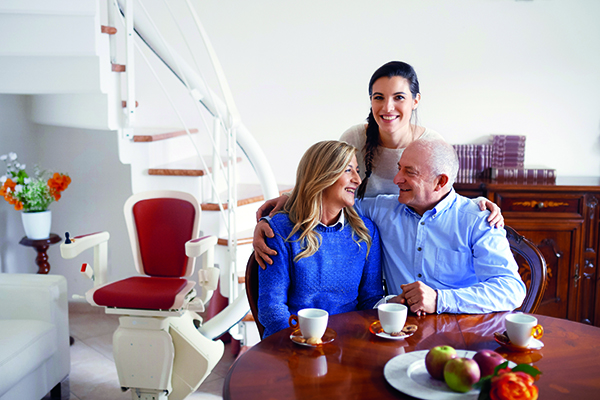 Handicare FreeCurve Stair Lift
The FreeCurve stair lift is the most luxurious continuous rail stairlift on the market today… and without breaking the bank! If you have a spiral, narrow or steep staircase with limited space it's not a problem for the Freecurve stair lift. The only single tube curved stair lift available in North America, the Freecurve can overcome the toughest staircase challenges while looking great in your home. Custom built to fit your staircase, this stair lift design is available in a variety of colours and 3 seat styles to match your home décor and safety needs.
Find out more about Curved Stairlifts
---
We also provide external stairlifts and vertical platform lifts (porch lifts) for outside your home!
 

Find Out More About Stair Lifts and Take Advantage of our Great Offer…
Ask us for a free, no obligation in-home assessment. Just fill out our information request and get a FREE consultation today.
[zigaform-estimator id="3″]